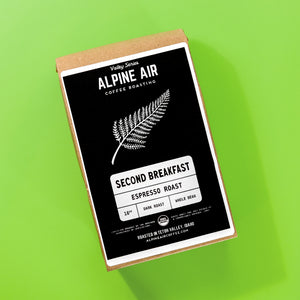 Alpine Air Coffee Roasting
Second Breakfast
Regular price
$13.00
$0.00
Unit price
per
Second Breakfast is a New Zealand Style Espresso Blend. Nutty. Intriguing. And sure to keep you moving. Just how Pippin likes it.
A moderately dark roasted blend, lending itself best to any of your favo(u)rite brewing methods, not limited to espresso.
Organic
STORAGE & CARE NOTES:
To maximize flavor and aroma, grind only what you need. Coffee keeps best in whole bean form, in airtight, dark locations. All our coffee comes in compostable bags with a tin tie to help maintain freshness and breakdown once you're done.
We do not recommend freezing or refrigerating as moisture will ruin the flavors. 
Good quality roasted coffee is best enjoyed fresh so order little and often.
---