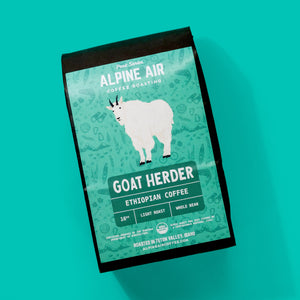 Alpine Air Coffee Roasting
Goat Herder
Regular price
$13.00
$0.00
Unit price
per
A part of our "Peak Series" line of premium coffees, Goat Herder is a delicious light  roast bursting with flavors of bright stone fruit and oak. This coffee lends itself best to pour over and drip style brew methods. 
This is a natural Ethiopian coffee.
Goat Herder is roasted with organic coffee beans. 
The inspiration for Goat Herder: "How was coffee discovered?"
One great story is that one day, ol' mate Kaldi, a goat herder in Abyssinia (Ethiopia, back in the day), discovered his goats chomping their way through a plant covered in red berries he'd never noticed before. Their attitude changed in front of his eyes from their usual reproachable to energetic and joyous. He had to try for himself, soon Kaldi found himself prancing around with his goats. Kaldi mentions this to a passerby, and like any smart passerby, they had to make a delicious brew out of it. Next thing you know, you're here reading this thinking, "I've gotta get me some more."
STORAGE & CARE NOTES:
To maximize flavor and aroma, grind only what you need. Coffee keeps best in whole bean form, in airtight, dark locations. All our coffee comes in compostable bags with a tin tie to help maintain freshness and breakdown once you're done.
We do not recommend freezing or refrigerating as moisture will ruin the flavors. 
Good quality roasted coffee is best enjoyed fresh, so order in smaller quantities and order often to ensure the best flavors! 
---